Queensland Railways
PCO / PCUY Container Wagon
1:87 HOn3½ & HO Scale
Available Now

CGL Models is proud to have assisted in the research & development
of the PCO / PCUY Container Wagon model in conjunction with SDS Models


* Pre-production sample model shown above
Model Features
* Ready to Run
* Factory painted & decorated
* Injection molded high quality plastic bodywork
* Die-Cast metal centre beam
* Highly detailed & accurate underframe with full brake equipment detail
* Equipped with genuine Kadee® scale knuckle couplers
* Adjustable coupler pocket for correct HOn3½ & HO scale heights
* Highly detailed QR38 type bogies fitted with blackened metal RP25-88 profile wheels
* Raised lettering on bogie sideframes
* Separately applied SAB load control valve on one bogie
* 18" Recommended minimum radius
* Separately applied buffers, uncoupling lever bars, & brake hoses (buffers to be fitted by the modeller)
* All PCO and PCUY models are based on the wagon design from the first production batch built by Comeng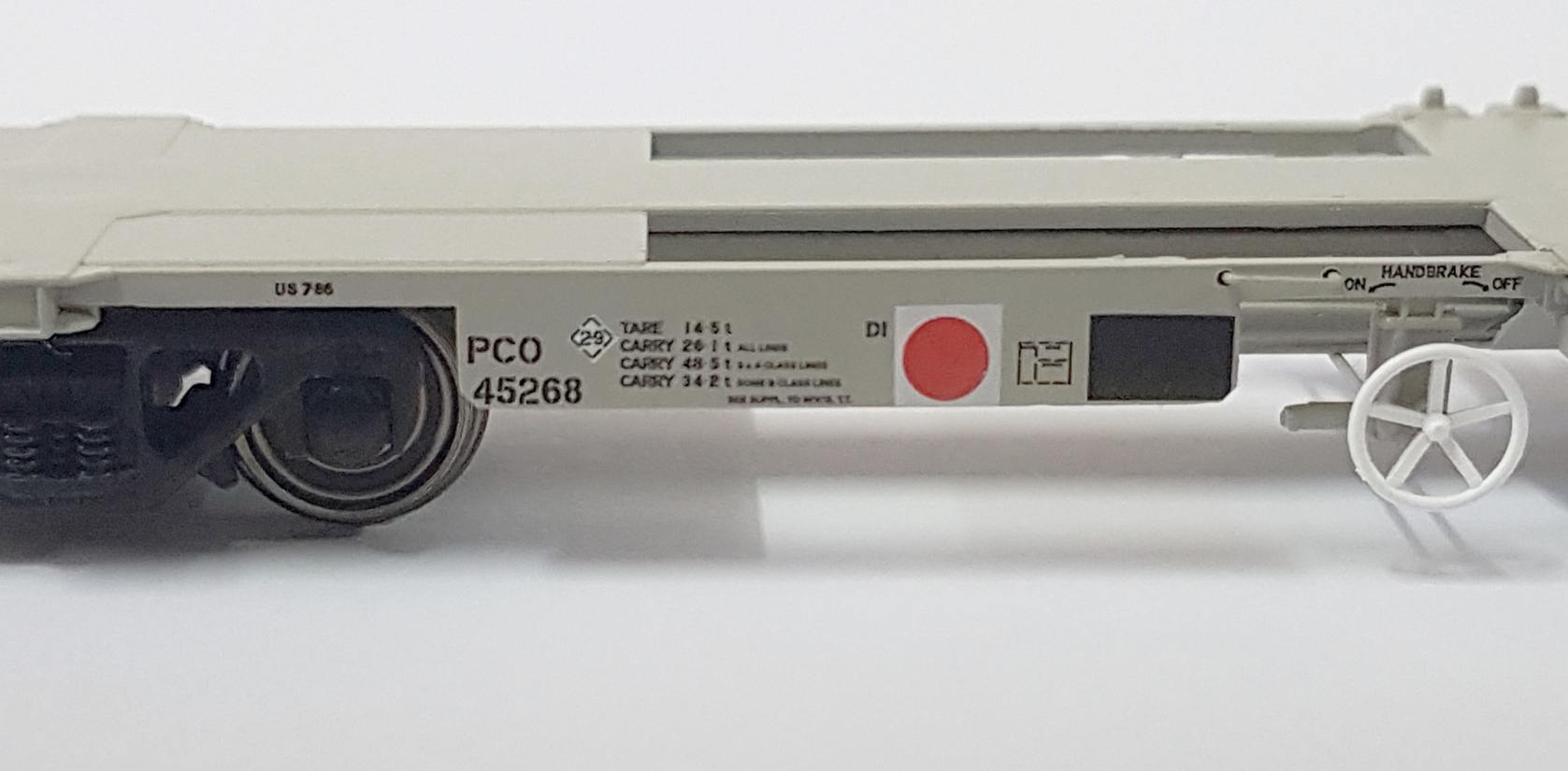 ---
Pack - A
1980's - 1990's
| | | | |
| --- | --- | --- | --- |
| HOn3½ | PCO Container Wagon - Pack A - HOn3½ (12mm Gauge) | $198.00 | Low Stock |
| | QR Grey - 3 Wagon Pack | | |
| | Wagon Numbers - PCO 45254, PCO 45268, PCO 45321 | | |
| | | | |
| HO | PCO Container Wagon - Pack A - HO (16.5mm Gauge) | $198.00 | Available Now |
| | QR Grey - 3 Wagon Pack | | |
| | Wagon Numbers - PCO 45254, PCO 45268, PCO 45321 | | |
---
Pack - B
1980's - 1990's
| | | | |
| --- | --- | --- | --- |
| HOn3½ | PCO Container Wagon - Pack B- HOn3½ (12mm Gauge) | $198.00 | Low Stock |
| | QR Grey - 3 Wagon Pack | | |
| | Wagon Numbers - PCO 45263, PCO 45296, PCO 45348 | | |
| | | | |
| HO | PCO Container Wagon - Pack B- HO (16.5mm Gauge) | $198.00 | Available Now |
| | QR Grey - 3 Wagon Pack | | |
| | Wagon Numbers - PCO 45263, PCO 45296, PCO 45348 | | |
---
Pack - C
1990's & Onwards
| | | | |
| --- | --- | --- | --- |
| HOn3½ | PCUY Container Wagon - Pack C- HOn3½ (12mm Gauge) | $198.00 | Available Now |
| | QR Grey - 3 Wagon Pack | | |
| | Wagon Numbers - PCUY 45264, PCUY 45283, PCUY 45306 | | |
| | | | |
| HO | PCUY Container Wagon - Pack C- HO (16.5mm Gauge) | $198.00 | Available Now |
| | QR Grey - 3 Wagon Pack | | |
| | Wagon Numbers - PCUY 45264, PCUY 45283, PCUY 45306 | | |
---
Pack - D
1990's & Onwards
| | | | |
| --- | --- | --- | --- |
| HOn3½ | PCUY Container Wagon - Pack D- HOn3½ (12mm Gauge) | $198.00 | Available Now |
| | QR Grey - 3 Wagon Pack | | |
| | Wagon Numbers - PCUY 45279, PCUY 45292, PCUY 45329 | | |
| | | | |
| HO | PCUY Container Wagon - Pack D- HO (16.5mm Gauge) | $198.00 | Available Now |
| | QR Grey - 3 Wagon Pack | | |
| | Wagon Numbers - PCUY 45279, PCUY 45292, PCUY 45329 | | |
---
Pack - E
1990's & Onwards
| | | | |
| --- | --- | --- | --- |
| HOn3½ | PCUY Container Wagon - Pack E- HOn3½ (12mm Gauge) | $198.00 | Available Now |
| | QR Grey - 3 Wagon Pack | | |
| | Wagon Numbers - PCUY 45282, PCUY 45303, PCUY 45325 | | |
| | | | |
| HO | PCUY Container Wagon - Pack E- HO (16.5mm Gauge) | $198.00 | Available Now |
| | QR Grey - 3 Wagon Pack | | |
| | Wagon Numbers - PCUY 45282, PCUY 45303, PCUY 45325 | | |
---
Order Form
---

Prototype Overview
During 1986, 100 PCO Class Container Wagons were built for Queensland Railways by Commonwealth Engineering (Comeng) at Salisbury in Brisbane. The PCO Class was one of several new and modern "skeletal" type container wagon designs which entered QR service during the 1980's and 1990's.
The PCO could carry two 20ft (6.1m) containers, one 25ft (7.6m) container, or one 40ft (12.2 m) container. One 20ft (6.1m) container weighing up to 19 tons could be carried single when located on the hand brake end of the wagon. The wagon could carry up to 48.5 tons on "S" & "A" class lines, and could be used on Express Freight trains at 80 km/h.
The 100 Comeng built PCO wagons were all fitted with QR38 bogies and had a gross mass of 63 tons. Running numbers were 45250 to 45349, and all were delivered between April and August 1986. When delivered the PCO's were fitted with auto couplers, transition links, and buffers on the wagon headstocks. From the early 1990's, buffers were progressively removed from QR rolling stock, and the PCO's would have had their buffers removed around the same time.
In 1989 a order for 100 was placed with ANI Ruwolt at Ipswich, and wagon running numbers were 45616 to 45715. This batch were classified as PCOP, and differed slightly from the earlier Comeng PCO wagons. The "P" at the end of the classification indicated the PCOP was suitable for use on passenger trains at 100 km/h. ANI Ruwolt received a further order during 1990 for 60 more PCOP wagons with running numbers 45728 to 45787. Shortly after this last batch entered service, all PCOP wagons were reclassified as PCOY. During the early 1990's, the letter "Y" in wagon coding was introduced to indicate suitability for 100 km/h running. A furher 50 PCOY's were ordered from ANI Ruwolt 1991, numbered 45792 to 45841.
The wagons delivered from the three ANI Ruwolt contracts can easily be identified, as they feature small dummy buffers which were designed to protect the headstock mounted air hose piping.
In 1992, 10 PCOY wagons use allocated to BP Australia for bitumen traffic and were classified PCBY.
From 1995 onwards, all 310 PCO and PCOY wagons were grouped together and as part of the North Coast Line 100 km/h upgrade in 1997 were reclassified as PCUY Class. During this period the class could be observed on trains all over the state on the main trunk routes including the North Coast Line Sea Freighter Services to Fisherman Island.
(Please Note - All PCO and PCUY models in Packs A-E, are based on the wagon design from the first production batch built by Comeng.)
Between 1998 and 2001, 100 PCUY wagons with running numbers 45616 to 45715 (originally built by ANI Ruwolt as PCOP), were upgraded with new heaver QR59A bogies to increase their load carrying ability. Following this upgrade they were reclassified as PJZY Class, and could carry up to 65.5 ton with an 80 ton gross mass.
During 1998, 67 PCUY wagons were converted and reclassified as PCUM to replace a fleet of earlier PYCM container wagons used in bulk sugar traffic.. The PCUM's were fitted with two QRST bulk sugar containers and used in the Mackay and Proserpine regions for the transport of bulk sugar from sugar mills to Mackay Harbour during the harvesting season. During the non-sugar months, it was common for the PCUM's to resume normal container traffic roles. Initially Plane Creek Mill at Sarina, Marian Mill at Mackay, and Proserpine Mill were railing sugar to Mackay Harbour, but by 2011 only Proserpine was contributing to the traffic. Consequently the PCUM fleet was progressively reduced, and by the 2013 season only 35 PCUM's remained in traffic. The use of PCUM's in bulk sugar traffic ceased at the end of the 2017 season due to the awarding of the contract to Pacific National.
During 2010, all PCUY and PCUM wagons were transferred to QR National/Aurizon ownership, following the Queensland Government's separation and public listing of the coal/minerals/freight business from QR.
A requirement to transport gas pipes from the Port of Brisbane to South West Queensland saw 80 PCUY wagons fitted with Dhatec System 88 pipe carrying frames and reclassified as PCUYP in October 2010. Following completion of the pipe carrying contract in 2013, most of the PCUYP's were returned to Aurizon container traffic as PCUY's.
Also coinciding with the completion of the pipe carrying contract in 2013, 25 PCUYP wagons were sold to Queensland Rail for infrastructure use, and spoil transport work. All 25 were reclassified as PCUY by Queensland Rail. Several more PCUY's were purchased from Aurizon and have since been converted for other purposes such as Main Reservoir piping cover wagons and track geometry wagons becoming the PCUM and PCUV wagons respectively.
Other roles for PCUY wagons in QR and QR National/Aurizon service have been the transport of cotton from Goondiwindi, carrying gypsum in purpose built containers from Winton to Innisfail, containerised coal traffic in the Mackay area, Charleville to Fisherman's Island export goat meat, Tycanba (Dalby) to Fisherman's Islands sea freighters which included Oakey and Toowoomba, Wallangarra to Fisherman's Islands export meat from the New England area of NSW.
In 2021, PCUY container wagons remain in service with Aurizon and Queensland Rail seeing use on cattle train services, Aurizon hauled Linfox freight service from Rockhampton to Longreach and Queensland Rail's infrastructure trains. However a large number of PCUY/PCUM's have been stored at different locations around the state.
---
Above - PCO 45296 - Photo coutesy of Arthur Hayes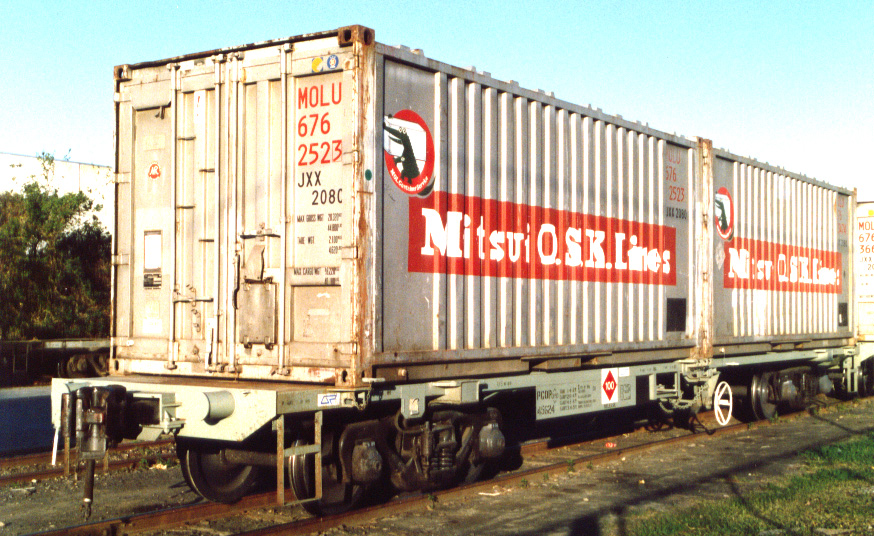 Above - PCOP 45624 - Photo coutesy of Arthur Hayes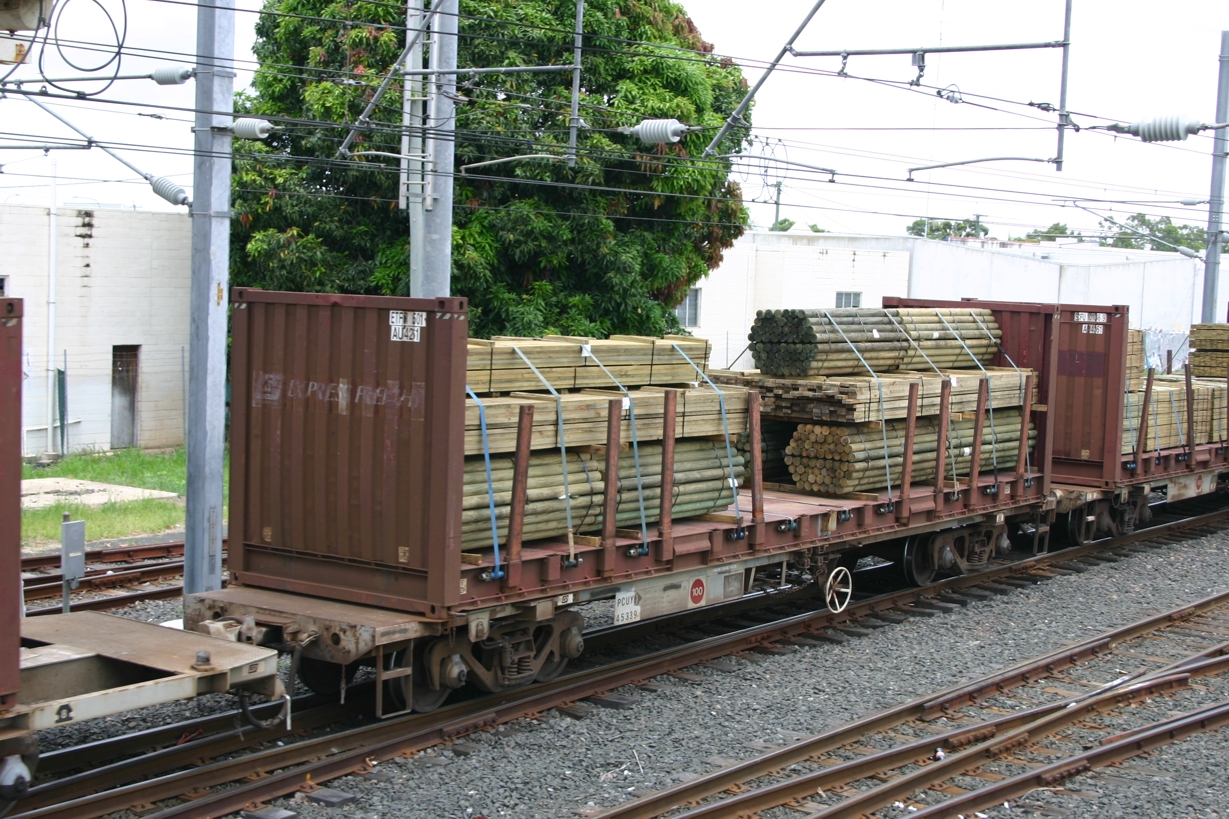 Above - PCUY 45339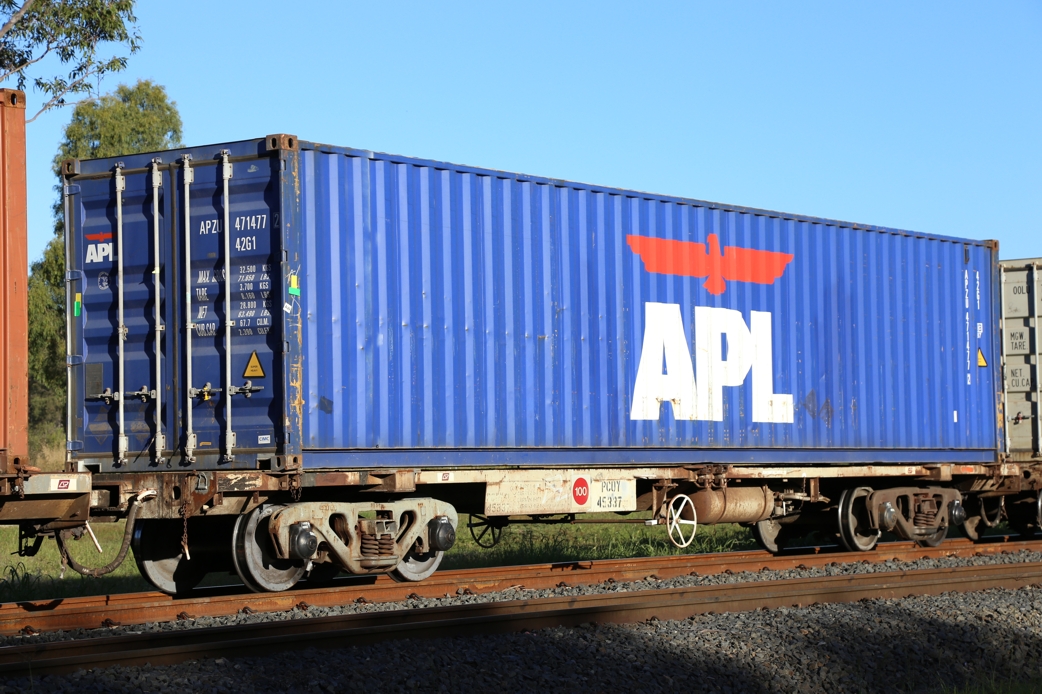 Above - PCUY 45337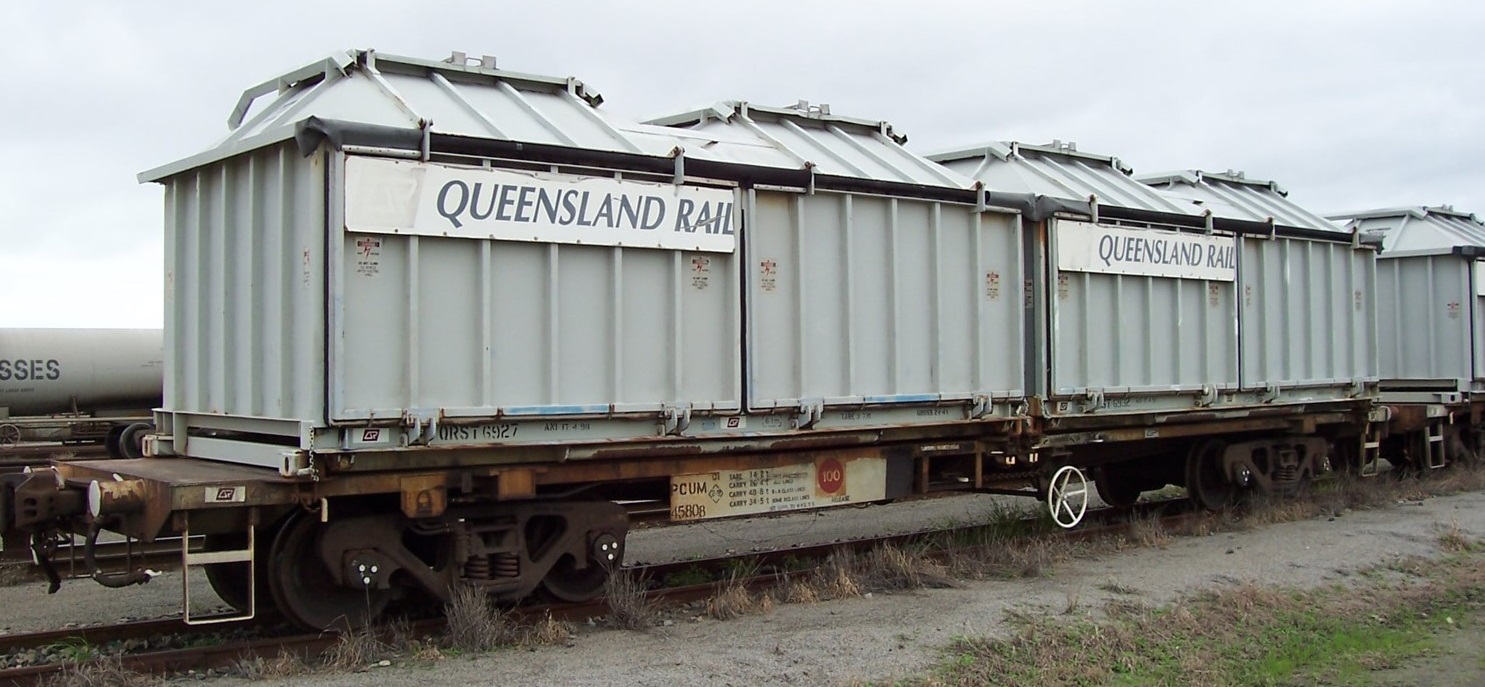 Above - PCUM 45808 with QRST Bulk Sugar Containers - Photo coutesy of Arthur Hayes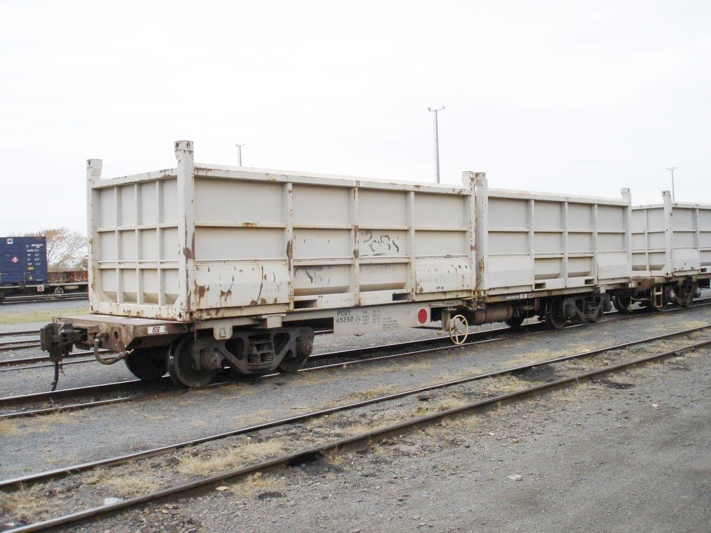 Above - PCUY 45292 with Bulk Gypsum Containers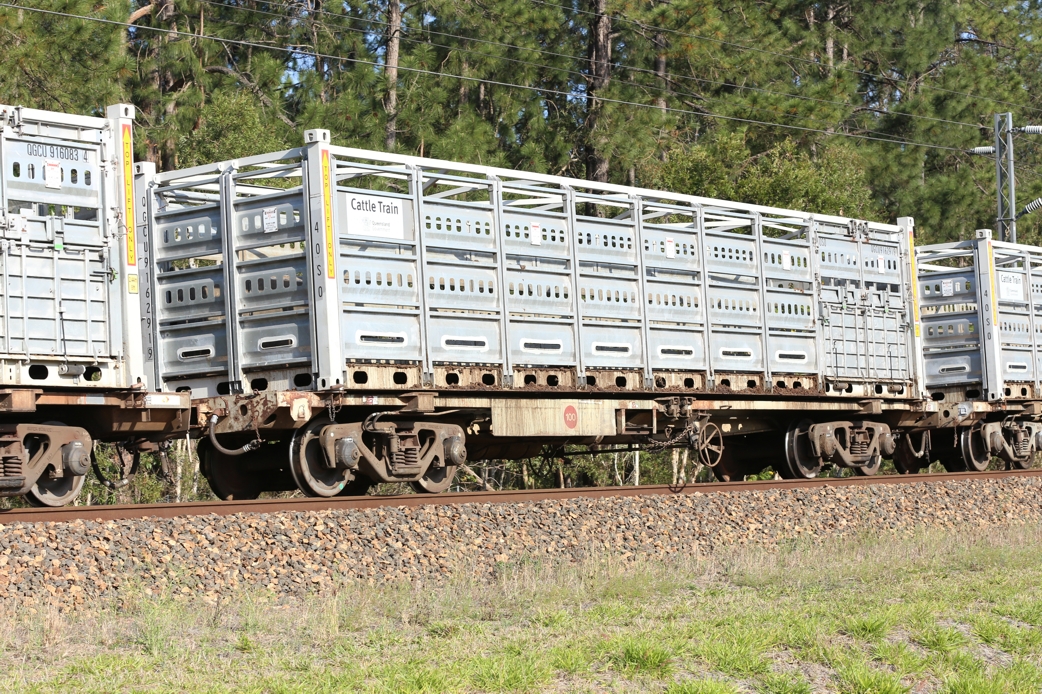 Above - Unidentifed PCUY with Cattle Containers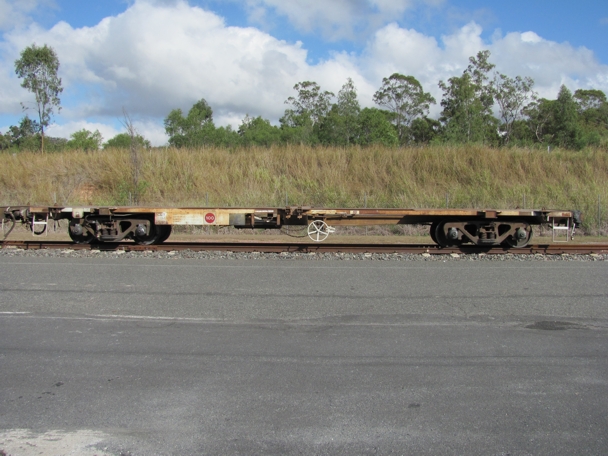 Above - PCUY 45325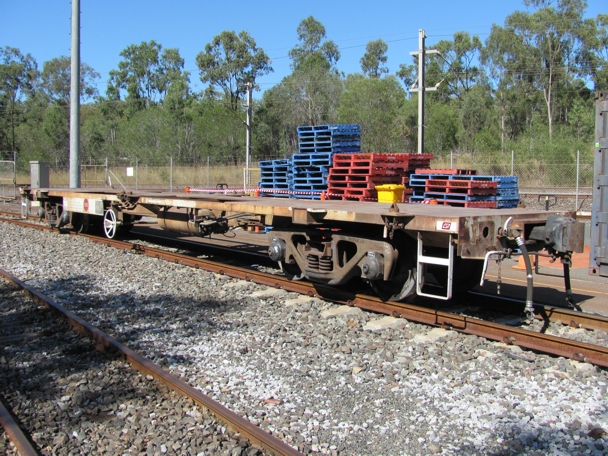 Above - PCUY 45325
---

ABN 75 616 140 740
Prices & specifications subject to change without notice.